Conklin Manufacturing
5478 S. Saginaw
Flint, MI 48507
Phone/Fax: (810) 742-4762
info@conklinmanufacturing.com




Manufacturers of Machined Plastic and&nbsp Metallic Pulleys, Bushings, Bearings,Wheels, Spacers, Assorted Rollers and More....

---
3/4&quot Round Belt Pulleys

Printer Friendly Format
Material: Duravar UHMW PE Natural&nbsp Virgin (FDA Approved Grade) *
Part Number
Finish OD (inches)
Bore Diameter (inches)
Width
- W - (inches)
Radius
- R - (inches)
Pricing
- Based on Quantities -
1-10
($ Each)
11-50
($ Each)
51-100
($ Each)
100+
($ Each)

RB75300

3.00

1/2

1

25/64

12.95
12.25
11.95
11.10

RB75350

3.50

1/2

1

25/64

15.95
15.25
14.95
14.10

RB75400

4.00

1/2

1

25/64

19.95
19.25
18.95
18.10

RB75450

4.50

1/2

1

25/64

23.95
23.25
22.95
22.10

RB75500

5.00

1/2

1

25/64

26.95
26.25
25.95
25.10

RB75550

5.50

1/2

1

25/64

32.95
32.25
31.95
31.10

RB75600

6.00

1/2

1

25/64

35.95
35.25
34.95
34.10

RB75650

6.50

1/2

1

25/64

39.95
39.25
38.95
38.10

RB75700

7.00

1/2

1

25/64

47.95
47.25
46.95
46.10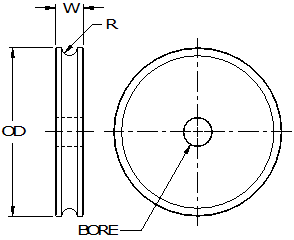 Material and Color Information:
&nbsp
The majority of our pulleys are machined from Ultra-High-Molecular-Weight-Polyethylene (UHMWPE). This material type is used in an extensive range of applications covering&nbsp a variety of industries (food, beverage, medical,&nbsp pharmaceutical, textile, chemical processing, pulp and paper, mining, maritime, steel, water and sewage treatment, bulk material handling and agriculture industries.
&nbsp
WHITE (or NATURAL) has no dyes or additives and IS&nbsp approved for use in the food, beverage, medical&nbsp and&nbsp pharmaceutical applications.
RED, GREEN, YELLOW, BLUE and ORANGE are NOT approved for the use in the&nbsp food, beverage, medical&nbsp or&nbsp pharmaceutical applications. Although these color&nbsp varities&nbsp can be used in other industries as well as by hobbisists and &quot Do-It-Yourselfers&quot .
UHMWPE is extremely tough and durable, with low friction characteristics, excellent abrasion resistance, good chemical resistance,&nbsp low moisture absorbation and with excellent sound damping qualities.
&nbsp
---
Conklin Manufacturing
5478 S. Saginaw
Flint, Michigan 48507
Phone/Fax: 810-742-4762

All text, graphics and other items contained herein are copy-written by Conklin Manufacturing.
No portion of this site may be copied or duplicated without written consent of Conklin Manufacturing.
© 2004&nbsp -&nbsp 2020&nbsp Conklin Manufacturing.
All rights reserved.

We can be contacted at:
info@conklinmanufacturing.com
&nbsp