Conklin Manufacturing
5478 S. Saginaw
Flint, MI 48507
Phone/Fax: (810) 742-4762
info@conklinmanufacturing.com




Manufacturers of Machined Plastic and Metallic Pulleys, Bushings, Bearings,Wheels, Spacers, Assorted Rollers and More....

---
3/4" Round Belt Pulleys

Printer Friendly Format
Material: Duravar UHMW PE Natural Virgin (FDA Approved Grade) *
Part Number
Finish OD (inches)
Bore Diameter (inches)
Width
- W - (inches)
Radius
- R - (inches)
Pricing
- Based on Quantities -
1-10
($ Each)
11-50
($ Each)
51-100
($ Each)
100+
($ Each)

RB75300

3.00

1/2

1

25/64

23.95
22.95
20.95
19.95

RB75350

3.50

1/2

1

25/64

28.95
27.95
25.95
24.95

RB75400

4.00

1/2

1

25/64

32.95
31.95
29.95
28.95

RB75450

4.50

1/2

1

25/64

39.95
38.95
36.95
35.95

RB75500

5.00

1/2

1

25/64

44.95
43.95
41.95
40.95

RB75550

5.50

1/2

1

25/64

48.95
47.95
45.95
44.95

RB75600

6.00

1/2

1

25/64

52.95
51.95
49.95
48.95

RB75650

6.50

1/2

1

25/64

56.95
55.95
53.95
52.95

RB75700

7.00

1/2

1

25/64

64.95
63.95
61.95
60.95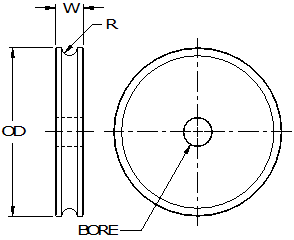 Material and Color Information:

The majority of our pulleys are machined from Ultra-High-Molecular-Weight-Polyethylene (UHMWPE). This material type is used in an extensive range of applications covering a variety of industries (food, beverage, medical, pharmaceutical, textile, chemical processing, pulp and paper, mining, maritime, steel, water and sewage treatment, bulk material handling and agriculture industries.

WHITE (or NATURAL) has no dyes or additives and IS approved for use in the food, beverage, medical and pharmaceutical applications.
RED, GREEN, YELLOW, BLUE and ORANGE are NOT approved for the use in the food, beverage, medical or pharmaceutical applications. Although these color varities can be used in other industries as well as by hobbisists and " Do-It-Yourselfers" .
UHMWPE is extremely tough and durable, with low friction characteristics, excellent abrasion resistance, good chemical resistance, low moisture absorbation and with excellent sound damping qualities.
---
Conklin Manufacturing
5478 S. Saginaw
Flint, Michigan 48507
Phone/Fax: 810-742-4762

All text, graphics and other items contained herein are copy-written by Conklin Manufacturing.
No portion of this site may be copied or duplicated without written consent of Conklin Manufacturing.
© 2004 - 2022 Conklin Manufacturing.
All rights reserved.

We can be contacted at:
info@conklinmanufacturing.com